n scale
model railroads of michigan
manistique & lake superior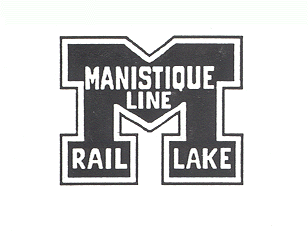 The Manistique & Lake Superior was founded in the late 1800s and had several different owners and names until it was absorbed formally by the Ann Arbor Railroad in 1909. Operating over roughly 37 miles of track between its car ferry dock in Manistique, north to Shingleton, and then west to a connection with the LS&I in Doty, the M&LS was a bridge route that provided a shortcut between the DSS&A, the Soo Line, and the Lower Peninsula, while also serving a handful of on-line logging interests.
This classic shortline survived until July 1968, when service was officially abandoned, but a trip to Manistique in July 2018 revealed the old ferry slip and apron were still in place 50 years later. Dilapidated and falling apart, but a reminder of the times when car ferries crossed Lake Michigan to connect the Ann Arbor with the Upper Peninsula.
​
In its last several years, the M&LS operated with just a single Alco S3 (#1) and a solitary AA-style caboose (#8). Believe it or not, that original M&LS Alco S3 survives and operates to this day, having passed to the Ann Arbor in 1968, re-numbered from M&LS #1 to AA #10, and then sold to the National Railroad Museum in Green Bay, WI where it was re-painted as Green Bay & Western #103.
​
With a car ferry connection on the south end, logging branches along the line and an interchange with an ore-hauler on the north end, the Manistique & Lake Superior is a great little railroad to model.
Manistique & Lake Superior Alco S3 #1 with Ann Arbor boxcar in tow